Introduction
Dark Chocolate Brownie Cheesecake
By: Michaela Brown
Dark chocolate and brownies combined in this Dark Chocolate Brownie Cheesecake. A rich dark chocolate brownie bottom topped with a creamy no bake cheesecake with dark chocolate pieces mixed in.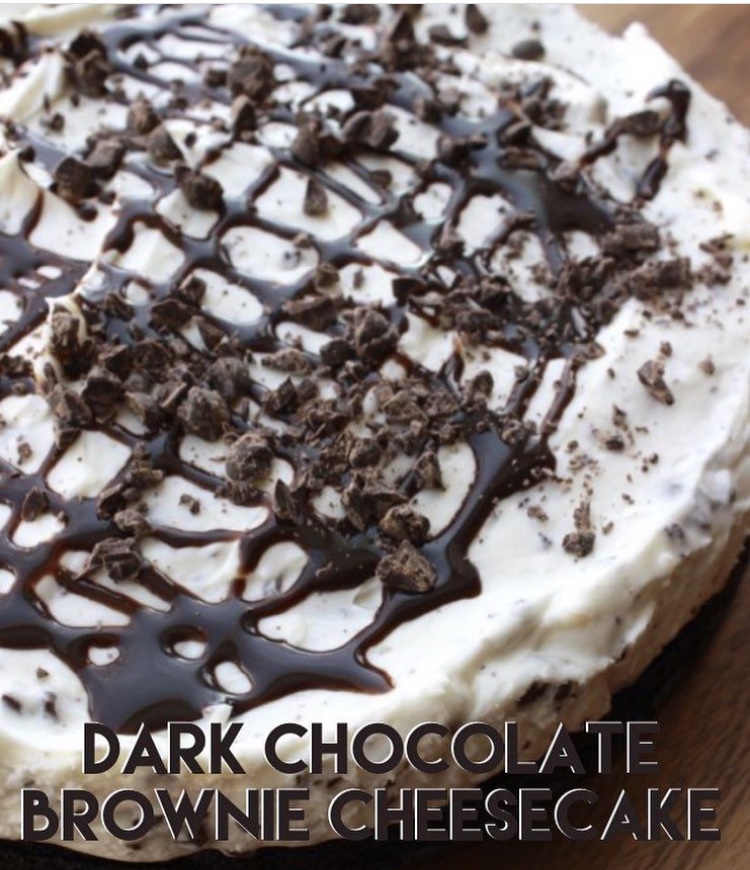 ¾ cup butter, melted
1 cup sugar
1 teaspoon vanilla
2 eggs, room temperature
¾ cup flour
6 tablespoon dark chocolate cocoa powder
¼ teaspoon baking powder
¼ teaspoon salt
Cheesecake Filling:
16 oz. cream cheese, room temperature
½ cup sugar
1 teaspoon vanilla
¾ cup heavy whipping cream
½ cup powdered sugar
1 cup dark chocolate bars, chopped
Step by Step Instructions
Step 1
Preheat oven to 350°. Line the bottom of a 9-inch spring form pan with parchment paper and grease the sides.
Step 2
To make brownie, combine the melted butter and sugar and vanilla in a medium bowl. Add the eggs and mix until well combined. In a separate bowl, combine the flour, cocoa powder, baking powder, and salt. Slowly add the flour mixture to the egg mixture and mix until well combined. Pour the batter into the prepared pan and spread it out evenly.
Step 3
Bake the brownie for 22 to 26 minutes, or until a toothpick comes out with a few moist crumbs. Remove the brownie from the oven and allow it to cool for 3 to 4 minutes, then remove it to a cooling rack to finish cooling. Once the brownie is cool, make the cheesecake filling
Step 4
In a large mixer bowl, beat the cream cheese and sugar until well combined and smooth. Add the vanilla. Mix until well combined and smooth. Set this mixture aside.
Step 5
In a separate mixing bowl fitted with the whisk attachment. Whip the heavy whipping cream and powdered sugar until stiff peaks form. Gently fold in the remaining whipped cream until well combined. Gently fold in the dark chocolate pieces until evenly distributed
Step 6
Pace the brownie back into the 9 inch springform pan. Line the sides with parchment paper that sticks out about 1 inch above the sides. Spread the cheesecake mixture evenly over the brownie. Refrigerate the cheesecake until firm, about 5 to 6 hours. Drizzle with chocolate sauce and serve!