Good For:
High Tea / Lunch
Inroduction
Tea Sandwiches
By: Michaela Brown It wouldn't be a tea without the dainty little sandwiches cut into fun shapes. The two I chose to make for my party are perhaps the most commonly associated with afternoon tea. When some friends and I were on a cruise we made the mistake of going to the afternoon tea without having lunch first. We kept asking for sandwich after sandwich! I don't think the waiters were very happy with us!! The lesson we learned?? It takes a lot of these little tea sandwiches to fill you up, so next time, don't skip lunch!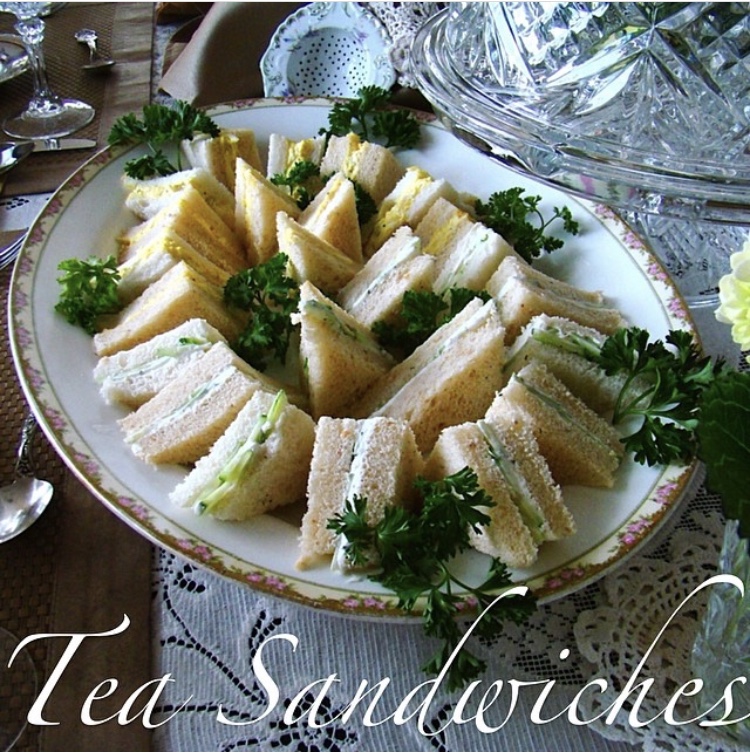 Egg Salad Sandwiches
2 Hard-boiled eggs, chopped fine
½ c. mayonnaise
Salt and pepper to taste
1 tsp. chives, finely chopped
8 thin slices of white or wheat bread
Butter
Step by Step Instructions
Step 1
Mix mayonnaise with eggs, chives, salt, and pepper.
Step 2
Spread each slice of bread with a thin layer of butter.
Step 3
Divide the egg salad among 4 slices of the bread; top with the rest of the bread.
Step 4
Trim the crusts and cut each sandwich into 2 triangles.
Step 5
Refrigerate of keep in a cooler until right before serving time.
Cucumber Sandwiches
Cucumbers
Butter
Cream cheese
White bread
Dill
Step by Step Instructions
Step 1
Peel cucumbers and slice very thin.
Step 2
Sprinkle slices with salt and drain on paper towels.
Step 3
Spread white bread with unsalted butter and a thin layer of cream cheese and layer cucumbers no more than ¼ inch high.
Step 4
Sprinkle lightly with dill, top with another slice of bread.
Step 5
Cut into desired shapes.